Chia Seeds Explained
Chia seeds (salvia hispanica) have become one of the most popular superfoods in the fitness and health community. They're easy to digest when prepared properly and a very versatile ingredient that can be easily used in recipes. The benefits of chia seeds are indeed plentiful.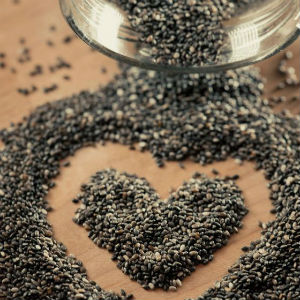 History of Chia Seeds
Chia seeds were originally a best kept secret but has gained popularity in recent years.  These tiny black and white seeds have a long history. They were grown in Mexico and South America, chia seeds are said to have been used by Mayan and Aztec cultures for supernatural powers.  Chia means "strength" in the Mayan language.  They were also known as the "Indian Running Food" because runners and warriors would use them for sustenance while running long distances or during battle.
Benefits of Chia Seeds
Chia seeds are a concentrated food containing healthy omega-3 fatty acids, carbohydrates, protein, fibre, antioxidants, and calcium. Chia seeds are an unprocessed, whole-grain food that can be absorbed by the body as seeds.
They give you tons of energy but also won't keep you awake at night and are supposed to be great for weight loss. This is apparently due to the fact that they can absorb many times their size/weight in liquid.  Chia seeds are also excellent for avoiding dehydration during exercise or exposure to heat.
But Wait, There's A Down Side
Chia seeds contain compounds called phytates that block the absorption of certain nutrients. These anti-nutrients are the reason that many ancient cultures soaked and fermented grains and seeds prior to eating them.   There is also some evidence that soaking and rinsing the seeds may help reduce the levels of these compounds.  The good news is that when used in moderation there isn't a need  to worry too much about their phytate content.
Uses For Chia Seeds
Depending on the required texture, there are several ways to use them in the kitchen :-
Egg substitute
Healthy puddings
Thicken gravies and sauces
Homemade energy gel
Bread chicken or fish
In meatballs
Grain free crackers
My Fav Chia Seed Recipes
These are just a few of my fav chia seeds recipes, but pop over to my Instagram account to see why my cupboard is always stocked with Chia Seeds