Eggs glorious eggs!! The superfood of all superfoods (well as far as I am concerned). An egg only contains one ingredient – "eggs." So there's no sugar or carbs. Now that is bloody amazing is you ask me. Eggs are a source of high-quality protein and a number of other nutrients. The other thing about eggs is that they are easily accessible and egg-cellently versatile (and yes I just used an egg pun).
Nutritional Info
Egg Facts
Here are some nutritional facts obtained from The Egg Nutrition Center.
101 Ways to Cook Eggs
As I have already mentioned, eggs are extremely versatile and can be cooked in 101 ways. Eggs are also the kind of food that can be enjoyed for breakfast, lunch, dinner and even as a snack. Here are some of my fav egg dishes.
Caution – reading further may stimulate your appetite
Poach one egg. I no longer eat fried eggs but you can use a fried egg if that's your preference. While your egg is poaching, heat up 1 teaspoon of olive or coconut oil. Chop up some kale and throw into a pan on low heat. Allow to cook just for a few seconds so that's it has a slight crunch. Add a handful of chopped mushrooms and sauté. Add salt and pepper to taste. I cooked my diced bacon in the airfryer but you can cook in the oven or in a plan. In a plate, layer the kale and mushrooms, then the bacon and the poached egg.
Preheat oven to 180 degrees. Cut an avocado in half. Remove the seed. Place the halved avos into an oven tray. Carefully crack an egg into each half. Place into the oven and cook. Remove according to how you like your eggs done. By the way, isn't egg and avo just the perfect combo.
Egg cups are my favourite and they are super easy to make. Preheat the oven to 180 degrees. Using a muffin baking tin, spray it with spray and cook. Line the side of each cup with a piece of streaky bacon. Then crack an egg into the center. Pop the muffin tin into the oven and allow to bake.
We spoke about the versatility of eggs, and curries are no exception. This is a dish I grew up eating and I absolutely love it. "Tinned fish curry" aka Pilchards. I fry some onions, chillis, extra tomatoes to make a nice yummy base sauce then I add the pilchards. Don't forget to remove the bones from the center of the fish. Boil the eggs, shell and add to the curry. This dish could definitely fall under healthy budget meals. You can also add eggs to veg curries to up the protein content.
There are many variations to this dish and many names for it. The Israeli's for instance call it Shakshuka, it is basically poached eggs in a "tomato sauce", but if you are Indian then it's called Egg Chutney. Cook up a "tomato sauce" by frying some onions and chillis in a little coconut oil. Add your chopped tomatoes and spices as required. Allow to cook into a hearty sauce, then crack the eggs into it. Stir in the egg whites (I like to keep the yolks whole). Cover your pot and allow eggs to poach on a low heat. I make mine super spicy but that's because I can't get enough of hot and spicy food. With the cost of living ever-increasing, we want to get bang for our buck, and this is the epitome of that. Cheap, easy, quick and nutritionally amazing.
This is one of my favourite dishes when I eat out (this is not a sponsored post). Poached runny eggs on a bed of kale and crispy bacon. It's served with an avo and sprinkled with seeds and micro leaves. Eating out can be tricky, but it's all about making good food choices. Notice the omelette in the background. Now what makes you think this family loves their eggs?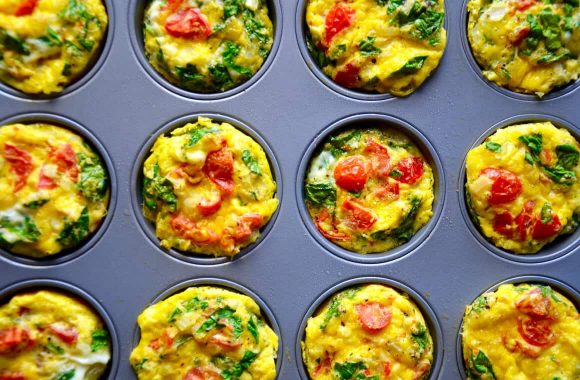 Just one final one, the humble egg muffin. Its super easy to make and one of the coolest ways to use up left overs (not that you will ever find leftovers in my home). Preheat your oven to 180 degrees. Prepare a muffin baking tin by spraying with spray and cook. Chop up tomatoes, onions, chillis, mushrooms, chicken and bacon for example. Look, this is where you get creative and use whatever blows your hair back. Sprinkle a little of your ingredients into each cup. Then add some grated cheese. Beat your eggs, add some pepper and salt to taste (I add a touch of paprika to mine) then pour the egg mix into the muffin cups. I also add a touch of baking powder and cream to my mixture.
I seriously hope that I've given you some food for thought and I'm hoping that now you will be even more creative when cooking eggs.
An egg-ceptionally wonderful day for you Lovelies and happy cooking.
Fit Like Mummy xxx